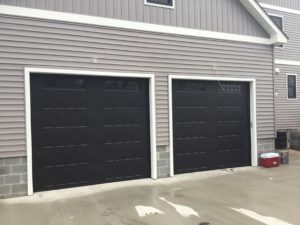 Four Seasons Garage Doors serves the greater Norfolk VA area, as well surrounding Virginia communities, with the sale, service, and repair of all types of garage doors and openers. Norfolk VA garage doors are our specialty, and our solutions range from beautifully designed garage doors to heavy-duty security systems. We are proud to serve Norfolk customers with both residential and commercial garage doors! No matter the size or shape of your project, our garage door experts are able to provide you with the professional advice you need.
Why Garage Door Repair Norfolk VA? With a population of 247,189, Norfolk VA is one of the largest cities in Virginia, second only to Virginia Beach. Norfolk resides in the middle of the Hampton Roads metro area, named after the vast organic harbor of the same name at the mouth of Chesapeake Bay, and has miles and miles of riverfront and bayfront property–even beaches. Norfolk is one of the oldest of the cities in Hampton Roads and is looked to as the urban, cultural, financial, and historic center of the region. Home of the largest Navy base in the world, Naval Station Norfolk, one of NATO's two Strategic Command headquarters, corporate headquarters of Norfolk Southern Railway, and Maersk Line, Limited, which manages the world's largest fleet of US-flag vessels, it's easy to see the appeal. Norfolk is also home to three bridge-tunnel complexes—the only bridge-tunnels in the entire United States. If you're in Norfolk Va, or nay surrounding areas, give us a call and let us know how we can provide you with garage door services!
---
If you know the frustration that comes with a broken garage door, don't hesitate! Four Seasons Garage Doors offers same/day and 24/7 emergency repair to the greater Norfolk, VA area. We value your time and know the last thing you want is to have to schedule multiple appointments. Our expert technicians will get the job done right on time and the first time. Four Seasons always gives FREE estimates for any potential repairs. That's right. No service call fee, EVER! Always honest. Always done right.
Our skilled technicians service a variety of Garage Openers and Doors!
Click Here to Read More on Garage Door Repair Norfolk VA
---
Commercial and Residential Products for Garage Door Repair Norfolk VA
Commercial Garage Door Repair Norfolk VA
Four Seasons Garage Doors offers a variety of captivating and reliable commercial garage doors for your business, storage facility, or warehouse in Virginia Beach, VA. Our doors offer security, durability, and functionality without sacrificing good looks. For a FREE consultation, call today and one of our professionals will come to your place of business.
We provide a wide range of distinctive and eye-catching garage doors for every style and preference. A new garage door from Four Seasons can greatly enhance the curb appeal of your Norfolk, VA home while increasing safety and security for you and your loved ones.




Or Create Your Own Garage Door Here!
All of our Norfolk VA garage door openers have industry-leading safety and security features to give you and your family peace of mind. All of our openers are MyQ compatible which allows the user to operate and monitor the garage door opener from anywhere in the world using a smartphone. Whether it's functionality you seek or an ultra-quiet solution, let Four Seasons Garage Doors find the perfect garage door opener for you.
---
Specials and Discounts Exclusively for Garage Door Repair Norfolk VA
NEW DOOR SPECIAL
$125.00 OFF
* Double Car Garage Door Size
$65.00 OFF
* Single Car Garage Door Size
Discounts
Four Seasons Garage Doors is proud to offer discounts to:
– Veterans and active duty
– Police, Fire, and EMS
– Teachers
– Seniors
– Ask us about the other ways we discount our services!
---
We dedicate our work to giving our Norfolk, VA customers the best possible experience each and every day. Here at Four Seasons, we have committed ourselves to four non-negotiable tenets for serving our customers:
Honoring our word.
Giving an honest assessment of what a customer needs to repair or replace their garage door, i.e. never fabricating a false or unnecessary upsell.
Creating an affordable solution for our customers' needs.
Always going beyond expectations.
The Shopper Magazine in Hampton Roads Virginia recently published an article recognizing our very own Matt Bruso!
The article highlights a family business owner doing all the right things and building a proper foundational business by refusing to take shortcuts. He describes some of the pitfalls and temptations he's been able to avoid because of his commitment to high standards,  professional conduct, and personal integrity.
By communicating clearly and concisely with his clients, Matt's transparency has helped him build lasting relationships and grow Four Seasons Garage Doors on word of mouth referrals.
We are so excited to be highlighted in the newest edition of this hometown magazine and recommend that you check it out – THE SHOPPER.
Check out all our information on Norfolk VA garage doors!
---
FAQs Garage Door Repair Norfolk VA
Q – How much does a typical Garage Door Repair Norfolk VA cost?
A – The prices of an installed garage door can vary greatly depending on the specific materials used for its construction. It can also vary on price with accessories that are added to get the proper look the customer desires. It is best to get a quote from a professional or price materials yourself.
Q – What materials are garage doors made of?
A – Garage doors can be really diversified, anything from wood, steel, aluminum, and fiberglass. It all depends on the personal preferences of the homeowner. At Four Seasons Garage Doors, we have customization software that will allow you to match exactly what you are looking for at exactly the right costs to your budget. Four Seasons Garage Doors is your home for all your Norfolk VA garage doors.
Q – How do I insulate my garage door? 
A – Insulating your garage door is something that can easily be done by professionals. However, if you are looking to DIY your own garage door we recommend looking at the different types of insulation. There are types of insulation called Batt Insulation, Foam Board Insulation, and lastly Reflective insulation. These are in order of lowest cost to highest as well as best for keeping in insulation and warmth during the winter.
---
Contact Us
Call (757) 652 – 3682 today and one of our professionals will come to your place of business for a FREE estimate and consultation.
Or Contact Us Today!