Garage Door Openers
Four Seasons offers a wide variety of Garage Door Openers to meet your specifications. All of our openers have industry-leading safety and security features to give you and your family peace of mind. They are also MyQ compatible which allows the user to operate and monitor the garage door opener from anywhere in the world using a smartphone. The MyQ features is wi-fi compatible also. Whether it's functionality you seek or an ultra-quiet solution, let Four Seasons Garage Doors find the perfect opener for you. Call today for a FREE estimate.
Chain Drive Garage Door Openers
Chain drive garage door openers are a fairly heavy-duty option for your home and can handle the weight of single or double residential garage doors. Chain drives have higher tensile strength and greater weight capacity than belts and can lift all except the heaviest of doors. They have a track record of lasting longer as well. If you customize your door with heavy insulation, a wide door, or a wooden door, chain drive garage door openers will be your best option. All of our chain-drive garage door openers are wifi compatible.
Ultra-quiet Belt Drive Garage Door Openers
Belt drive garage door openers are quieter than their chain-driven counterparts. Although the chain drive is known to last longer than a belt drive, the frequency of use can mean a world of difference. The belt drive tends to operate a bit faster and also operates more smoothly than a chain drive. There is a noticeable noise difference with a belt drive versus a chain drive and homeowners are usually most satisfied with belt drive garage door openers. All of our belt-drive garage door openers are wifi compatible.
Elite Space Saving Wall Mount Garage Door Openers
The Elite Space Saving garage door opener is mounted to the wall instead of mounted overhead on the ceiling. It takes up very little space on the wall and operates silently. Since it's operating on the wall, you can say goodbye to 2nd-floor vibrations. You can also set the door to close on its own. This way, if you forget to close it, it will close automatically. It does require a front-mount torsion bar system.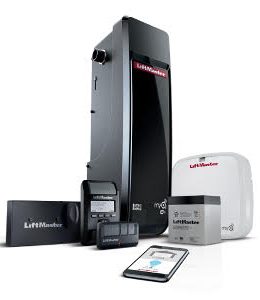 MyQ Internet Gateway
MyQ Internet Gateway is a revolutionary technology that connects to the Internet and allows you to control and operate your garage door opener. There are many benefits to the MyQ system. First, you can access light control inside or outside your home from anywhere you're located by using a smartphone or computer. Second, the MyQ service works on any residential or commercial opener or gate. There also isn't an activation fee to use this service and you can add up to 16 devices onto your account.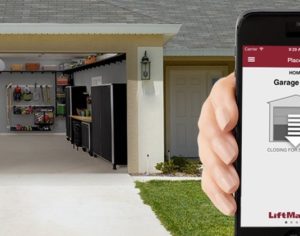 Contact us with any questions about any of these openers or the MyQ Internet Gateway.