RESIDENTIAL GARAGE DOORS
Four Seasons Garage Doors offers a wide range of distinctive and captivating garage doors for every style and preference. A new garage door from Four Seasons can dramatically enhance the curb appeal of your home while increasing safety and security for you and your loved ones. Call today for a free estimate and one of our professionals will help you design and choose the new door of your dreams.
Free Garage Door Estimates
Receive a free estimate for any garage door or garage door opener. If you need a commercial or residential garage door, give us a call and get your free estimate today. We provide any garage door size you want with any style. Some of our more popular styles are raised panel, carriage house, aluminum, and glass garage doors. Check out a few of the popular options below or take our garage door design builder for a spin!
Superior Customer Service
We strive to ensure that every customer receives all the help they need when selecting a new garage door. The options can seem overwhelming to customers. That's why our team of experts will walk you through the options and advantages of each door. Whether it's the style of door, how it operates, or questions about service or warranty, we want to make sure you are a fully informed customer. You'll find our knowledgeable experts friendly and ready to help. Our goal is your complete satisfaction. When your door is installed, we make sure you understand how it operates and what all those buttons on the remote control can do.
We can also discuss chain drives versus belt drives and wall mount features. There are advantages to each and we can help you decide what would be best for your particular situation.
Reviews
Take a look at some of our 230+ 5 STAR Google reviews. You'll see exactly why Four Seasons Garage Doors is the company you want to install your next garage door. We appreciate all the feedback from our customers.
"Prompt service, knowledgeable staff, and fair price."
"They do quality work and charge fair prices for their services."
"We called Matt when one of our garage doors literally cracked in the middle rendering it basically useless. He came out almost immediately, ordered the door and was back within a few days to replace it. In the meantime we were so satisfied with the price he gave us we had him install the other door as well so we were guaranteed a match. Four Seasons Garage Doors is awesome!!! Thank you for doing a great job and quickly."
"Four Seasons Garage Doors is unlike most contractor companies for the better – I wish they offered more services than just garages doors!
Communication:
1- The website is easy to navigate and allows you to schedule appointments directly from the site.
2- I had a response from my initial inquiry within an hour from the owner.
3- I was informed through text or email about all of my appointments and installation.
4- The owner, Matt, provided quotes quickly, educated us about the product, and helped us make the best decisions for our home.
Work:
1- Crew showed up on time and were polite and professional.
2- They installed our system in about a half a day and cleaned up the site.
3- Upon completion of installation we were given maintenance and care instructions.
We are thrilled with the end result and highly recommend Four Seasons Garage Doors."
See all of our Google and Angie's List reviews.
Popular Garage Door Styles
Raised Panel Garage Doors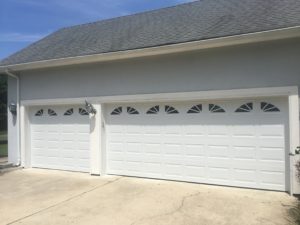 Raised panel is the standard garage door used in the United States. There are many options that come with this type of including windows, hardware, choice of material, and more. Keep your belongings safe, especially your vehicles, against the sun and salt air which is very important in our area. The height for a door is normally in the neighborhood of 7 to 8 feet but can go as high as 12 to support the storage of a recreational vehicle.
Carriage House Garage Doors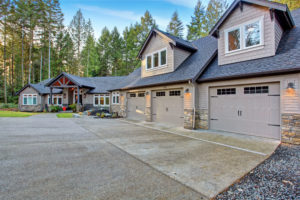 A carriage house garage door has a uniquely attractive style. These garage doors were modeled after carriage houses where horse-drawn carriages were kept. Although these garage doors open vertically like most doors today, their appearance still holds the allusion to their original design, which was to open horizontally. Not only do they add a special aura to a home, but they're also just as strong to protect your valuables inside.
Aluminum/Glass Garage Doors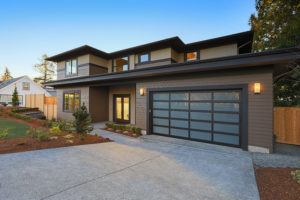 An aluminum garage door can certainly boost curb appeal. These doors have a modern to futuristic look that can complement a contemporary home like no other garage door can. They also allow a high degree of customization, which includes determining how many windows (and how much light) to allow inside and what color to choose for the finish. Aluminum doors are also environmentally friendly and incredibly lightweight. You can also add insulation to improve energy efficiency.
We also offer same-day award-winning service.
Call (757) 652-3682 Send Us a Message
Areas We Serve
We proudly service garage doors and openers for customers in the following areas…